Increase Your Referral Volume
MDreferralPRO's intelligent business development system answers the important questions:
Where are the untapped referring sources?
Are referrals from certain physicians trending up or down?
How many new patients have been seen? From which referring source?
Which referral sources should be my top priority?
Where do I concentrate my marketing efforts?
What is the return on my marketing investment?
By using MDreferralPRO, physician liaisons can create an effective sales strategy that saves time, boosts referrals and increases your bottom line. MDreferralPRO's referral generator helps you track that information to make sure your business is heading in the right direction.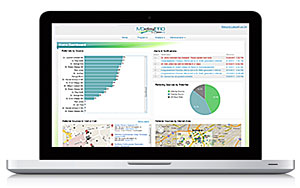 Why are these tools important?
MDreferralPRO referral software uses alerts, professional feedback tools, and referral visit information to help identify the likes and dislikes of referring physicians. All these things help physicians and clinics adjust their business practices and acquire more doctor referrals.
Real-Time Updates
MDreferralPRO referral software uses real-time updates, predictive analytics, and CRM/PRM tools to help identify which providers in your target market are trending positively and which are trending negatively. Armed with this data, your physician liaisons can prioritize their call lists to make the most efficient use of their time.
Trend Analytics
The login dashboard includes charts and graphs that show your top producers, market share and ROI at a moment's glance. These will then help guide decisions for your practice. Dashboards are customized for specific users such as administrators, liaisons, and physicians. And users can drill down to view data on an organization, a facility or a specific physician.
CRM/PRM Resources
After you or a colleague makes a call on a referring provider, you can enter visit notes into MDreferralPRO's secure iPad application or on your laptop. Physician Liaison face-to-face visits are organized and stored in the referral generator so users can access them at any time.
Referring Sources
Track your physician referrals — where
they come from and where they don't — in order to strategize, and view your data in a customizable dashboard or report. MDreferralPRO takes generating new referrals to a completely new level.